Breast Lift Surgery | Mastopexy
Breast lift is a surgical procedure that involves the removal of breast tissue and reshaping of the breast. Breast lift plastic surgery is an option for women who, although satisfied with the size of their breasts, are unhappy about the sagging and loss of firmness. This breast lifting procedure is called 'mastopexy'.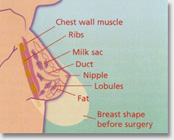 Incisions are made around the areola, down the breast and along the natural curve of the breast crease. Healthy women of any age can have breast reduction surgery. It is recommended to wait until breast development, child birth and breastfeeding have stopped. All of these can have unpredictable effects on breast shape.
Breast lift plastic surgery can be used to balance the size and shape of significantly unequal breasts. The complete Breast Lift Mastopexy pamphlet is available from your cosmetic surgeon Mr Murray Beagley.